As this old ad for Listerine™ from a 1939 magazine illustrates, real fisticuffs tends to have little in the way of style. Despite that, traditional martial arts have long assumed that a practitioner will shape their techniques by the tenets of whatever teacher or style they follow. It is usually implied or stated flatly that this is the best way to learn how to fight or defend one's self.

This was perhaps true in the old days when different styles cherished their secret or trademark moves. It is true that even strange tactics can be used to good effect assuming that the opponent is less experienced and adaptable than the person using it. But, guess what, experienced fighters can adapt so quickly that your secret "Flying Fish Fingers of Death" technique won't work again if it doesn't work the first time. I've seen this time and time again in sparring with practise swords with a good partner. If your new technique works the first time you use it on an experienced partner; the second time, it won't work as well and the third time, he will have figured out a counter.

Powered by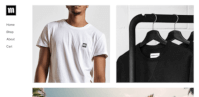 Create your own unique website with customizable templates.