Stealing "Secrets"
I watched a video today of the best of a workshop that Rob gave last year on close range tactics from the perspective of the Systema that he practices and teaches in the UK. I was reminded while doing so that we live in an audio-visual age which might well have made the founder of the Yang style Taijiquan, Yang Lu Chan, green with envy. For those who don't know the story, he was reputed to have learned the basics of his art by watching Chen-style practitioners practising while he hid behind a stone wall and watched them training night-after-night. What would he have thought of the modern opportunity to attend workshops, buy dvds, stream instructional videos or "shop around' at a variety of martial arts that teach openly to anyone?

I felt a little bit like I was "stealing secrets" myself while watching Rob and his students training on my monitor screen. Perhaps I'm only fooling myself as to the depth of my understanding of martial body mechanics but I saw much that I recognized and liked. I also saw much that was done differently or explained in ways that made more sense to me than the kinds of explanations I have used with my own students over the years for similar methods of standing and moving while delivering and receiving "discomfort".

Powered by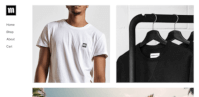 Create your own unique website with customizable templates.